For more information on the St Regis Play and House Tour, click the image below:
Support Your Local Christian Theater Group


Freud's Last Session

by

Mark St. Germain

A Co-Production with Acacia Theatre!

On the day England enters World War II, Sigmund Freud, a man of science and logic, engages in a battle of wits with C.S. Lewis, a Christian and writer from Oxford University. Together they discuss science, God, life, and everything in between in this thought provoking play. Set a few weeks before Freud took his own life, will Lewis be able to prove God is real? Will Freud be able to change the students' minds? Find out in

Freud's Last Session.

Fridays, October 2, 9 and 23 at 7:30 pm

Saturdays, October 3, 10 and 24 at 7:30 pm

Sundays, October 4, 11 and 25 at 3:00 pm ** (please note that this is a change from our usual 2:00 pm start time)

Thursday, October 8, 7:30 pm

---

The Incarnation of the Full Gospel Unified Christmas Choir
by Alan Atwood

Performance Dates: December 4,5,6,10,11,12,13

A classic Christmas comedy! When the Full Gospel Choir learns that their beloved church will be closed, they decide to raise funds to save it by putting on a Christmas Concert. But the project comes unhinged when this band of misfits tries to work in unison. Mayhem ensues as they battle their church board, the city building inspector and each other. In the end they come to a marvelous epiphany about the heart of the church.




---

Single Tickets On Sale Now

Curious to see what Morning Star Theater is about?

Please join us in viewing God's word through our multiple performances, which are showcased each year.

To see an example of a performance, click below and enjoy!

___________


Morning Star Productions
5385 N Green Bay Ave
Milwaukee WI 53209




---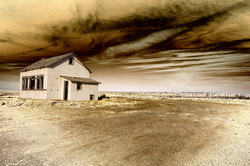 Okie Joe, a New Morning Star Original
by Alan Atwood

Performance Dates: April 15,16,17,21,22,23,24

God's power for forgiveness shines through this retelling of Joseph's story – but with a twist: it all takes place in the Dust Bowl era. This replanting of a favorite Bible account is sure to make you smile and bring you deeper into this fascinating tale of one man's struggle to forgive his family.
---