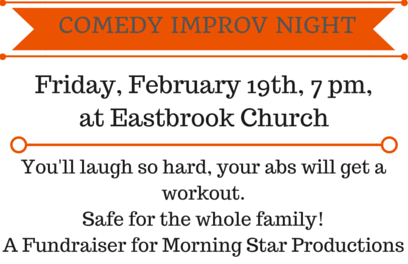 DON'T MISS this night of fun and laughter! FISH STICKS COMEDY will provide "squeaky clean" fun with lots of laughs and audience involvement.


Here's an example of Fish Sticks Comedy:
In addition to the entertainment, a three course Italian dinner is available from 5:30 pm to 6:45 pm. Dinner includes a salad, baked ziti with Italian sausage and garlic bread, and a dessert.

The 7 pm show is 10$ for adults and 5$ for children, 12 and under; maximum 35$ per family. Dinner plus show - 22$ for adults and $13 for children 12 and under. Children under 2 are FREE!
(Family package not available online. Reserve by mailing a check for 35$ with number of family members to:
Morning Star Productions, 5385 N. Green Bay Ave., Milwaukee, WI 53209)

Okie Joe

, a New Morning Star Original

by Alan Atwood

God's power for forgiveness shines through this retelling of Joseph's story – but with a twist: it all takes place in the Dust Bowl era. This replanting of a favorite Bible account is sure to make you smile and bring you deeper into this fascinating tale of one man's struggle to forgive his family.

Fridays, April 15 and 22 at 7:30 pm

Saturdays, April 16 and 23 at 7:30 pm

Sundays, April 17 and 24 at 3:00 pm

Thursday, April 21 7:30 pm

---

Single Tickets On Sale Now


Curious to see what Morning Star Theater is about?

Please join us in viewing God's word through our multiple performances, which are showcased each year.

To see an example of a performance, click below and enjoy!